Elizabeth Gwillim had moved to London by 1784, as she and Henry married that year at St. Bride's Church. They lived on Boswell Court, off Carey Street, near the Inns of Court of the Temple and Lincoln's Inn, north of Fleet Street. London was a bustling metropolis with plenty on offer in terms of both natural history and the arts. Below are a few institutions that may have interested or influenced Elizabeth prior to her departure.
---
Leverian Museum: Sir Ashton Lever (1729-1788) was an English collector whose collection comprised 28,000 objects from around the world. He moved it from Manchester to Lancashire, and then London, where it opened as the Leverian Museum, or Holophusicon. Due to financial difficulties, Lever was forced to sell his collection via a lottery in 1786. A barrister named James Parkinson won the lottery, and he allowed Lever to continue operating the museum for a few months. After Lever's 1788 death, Parkinson cared for the collection himself; due to continued financial difficulties, however, Parkinson had to leave Leicester House for a cheaper location at Albion Place, south of Blackfriars Bridge. The collection was open to the public from 1775–1806 and catalogued by George Shaw in Musei Leveriani explicatio, anglica et latina (1792-96). Illustrators include Philip Reinagle, Charles Reuben Ryley, and Sarah Stone. Stone is an interesting and relevant figure to Gwillim's story, as she was painting watercolours of birds from the Leverian collection (which were advertised as part of the museum) as well as exhibiting her work with the Royal Academy and Society of Artists. The image below of the Leverian itself was exhibited at the Royal Academy show in 1786.
Gwillim's contemporaries, the sisters Susan and Fanny Burney had seen Lever's collection in London, so too may have Gwillim herself. Susan Burney describes Lever's collection in considerable detail in her letters.
I wish I was a good Natural Historian that I might give you some idea of our entertainment in seeing birds, beasts, shells, fossils, etc – but I can scare remember a dozen names of the thousand I heard that were new to me. The birds of paradise, and the humming birds [sic] were I think among the most beautiful…

Burney, Fanny, 1752-1840, and Annie Raine Ellis. The Early Diary of Frances Burney, 1768-1778: With a Selection From Her Correspondence, And From the Journals of Her Sisters Susan And Charlotte Burney. New ed., rev. London: G. Bell , 1907. From sister Susan to Fanny, 1778, Vol. 2 pg. 248.
---
Ely House at 37 Dover Street: This was the home of the Bishop of Ely and his wife Mary Yorke. The couple was friends with the Gwillims and they may have visited here often. At this home in London, the Yorkes displayed a rare Argus Pheasant that the Gwillims had sent them from Madras. Mrs. Yorke wrote in a letter:
Mr Keene brought over with him as a present for the Bishop & myself from Sir Henry & Lady Gwillim an Argus from Pheasant a most beautifull Bird (larger than ours of the same name) your Ladys. may perhaps have seen at the Museum or at Sir Ashton Ls? … should your Ladyship when you are in Town go through Dover Street, you will find it standing on our Side Board in the Parlour, if you should like to see it.

To the Rt. Hon. Lady Lucas, December 7th, 1806, from the Bedford Archives, courtesy of Anthea Jones.
---
Society of Arts: Fully titled the 'Society for the Encouragement of Arts, Manufactures and Commerce' this group of creatives was founded in 1754 by William Shipley to encourage the arts in Britain. They did so by hosting exhibitions and awarding prizes for winning submissions. Many of the early members were important figures in the arts and society, including Joshua Reynolds, Benjamin Franklin, Joseph Banks, and more. Henry Gwillim was admitted as a member in 1795-99.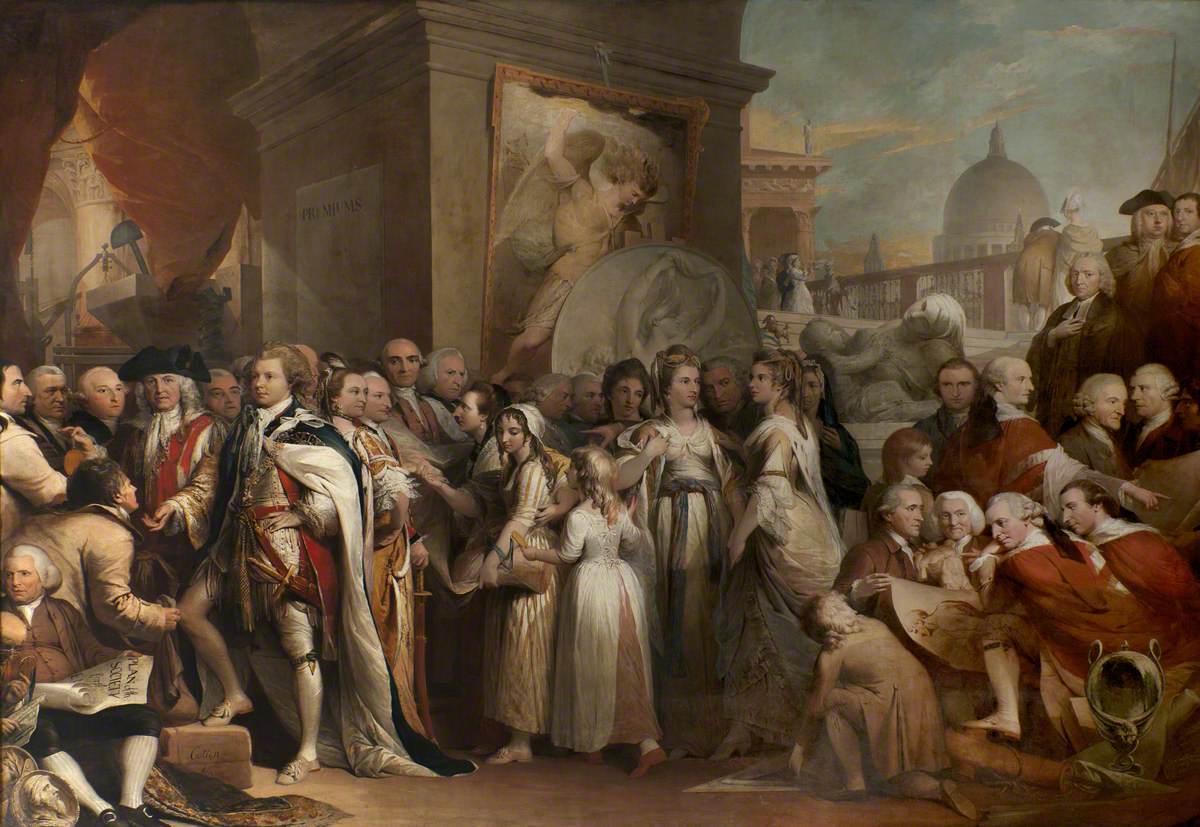 ---
Royal Academy of Art: Founded in 1768, the Royal Academy was part of an attempt (mainly by Sir Joshua Reynolds) to promote a "British School" of art, both in the broad, national sense and the literal, educational sense. Its exhibitions, featuring a variety of genres and artists, were very crowded and popular with the public, despite the admissions fee and to the dismay of those who wanted a more elite, exclusive experience. Many artists from the Leverian catalogue learned and/or exhibited their art here, including Sarah Stone.
---
Horace's Head: This publishing firm, founded by naturalist Benjamin White, was the first in London to focus on natural history books. White, along with his brother Gilbert, was very well-connected to the authors and artists who worked on this topic at the time. Naturalist Thomas Pennant, who wrote about both British and Indian birds, frequented the shop and published many of his books through the firm. Located on the corner of Fleet Street and the Strand, the shop was quite close to the Gwillim's residence and she may have been aware of their activities and publications.
---
By Saraphina Masters